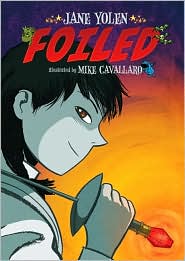 By Jane Yolen
Illustrated by Mike Cavallaro
Published by :01 First Second
Copyright © 2010
Foiled is a wonderful new Graphic Novel. Aliera Carstairs is a fencing phenom. Her mom is a seasoned veteran…in shopping on the cheap. At one particular Tag Sale at a school Aliera's mother finds her a practice foil for fencing class and purchases it for $2.00! It is a very good foil except for this tacky looking fake ruby on the end of the handle. Aliera wants to remove it, but she can't.

While Aliera is hot stuff in fencing class, in High School, she is pretty much ignored. This doesn't seem to bother her much until a new kid comes to school. He is absolutely gorgeous, beautiful even, and he ends up being her science partner. Aliera finds herself very attracted to him, but very irritated by him all at the same time. There is something not quite right about him, but she just can't figure it out. When he asks her out on a date, she soon realizes that things are certainly not what they seem.

The lead character in this graphic novel is a strong independent female, but this book should appeal to boys with its sword play (sorry weapon play — read the book you'll get the correction) and its hint of the supernatural. I really enjoyed the use of fencing for this novel; it is a very athletic sport that doesn't get the attention it should. This is a great teen read.