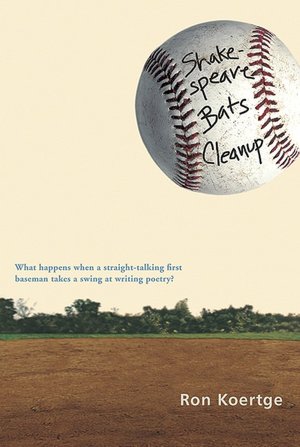 by Ron Koertge
Published by Candlewick Press
Copyright © 2003
I am a big baseball fan, and I just so happen to like poetry. There is something about the game of baseball that brings out the poet and writer in many men. The game has a soul. It's contemplative. It's youth at it's core. Author, Ron Koertge, gives us just a little touch of that in this book.
Kevin Boland loves baseball. Well baseball and girls – he is 14 hello. But baseball seems to be his life he is a great first baseman with a sweet stroke. But when he catches mono his baseball life is derailed. He is too sick and weak to play ball. Since he is pretty much confined to his house and tired much of the time Kevin picks one of his Dad's books on poetry styles. He starts to write just to have something to do, but it isn't until he gets better and he can do whatever he wants that he realizes what he really wants to do is write poetry. He hasn't dropped baseball, but he realizes that he enjoys writing as well.
Kevin's poetry is a reflection of his personal life. At first it is mostly about baseball, but soon he finds himself writing about the loss of his mother, his father's coping skills, and of course girls.
This quick, but wonderful, read is especially great for tween and early teen boys. I think it really shows that while sports are fun, and to some extent important, they are not life. I also think that Kevin's character shows that being sensitive doesn't mean being week, it means being able to share how you feel. Great book!